Following a very tough season in the
group stage and play-off matches, last weekend (4th to 6th
September) saw the Bromley AEGON Team compete in the National Finals at The West
Hants Club, Bournemouth against seven other
top teams from around the country.
With Bromley's top players
travelling to the event in Robbie Ridout (ATP 996), Myles Orton (LTA 1.1),
Harry Skinner (ATP 1893), Keelan Oakley (ATP 1351) and Tom Wright (LTA 2.1),
the Bromley boys were looking forward to a successful weekend. Having been seeded
4th at the finals Bromley were drawn to play former finalists
Manchester Northern on the Friday.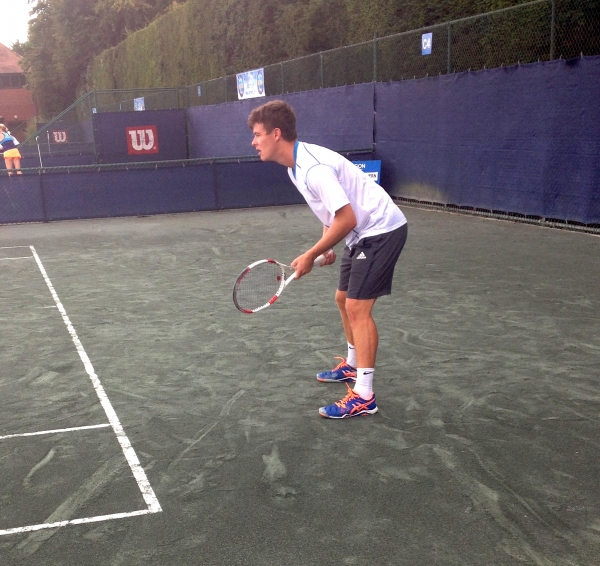 Competing first at 3 and 4 for Bromley were Keelan Oakley (pictured above)
who was up against Northern's Seb Jackson, and Harry Skinner who played Nick Eeckelaers.
Having
battled through to level his match at one set all, Oakley eventually lost to Jackson 4-6, 6-4, 5-7.
Skinner's
match score looked easier than it actually was as he came through to win against Eeckelaers 6-1, 6-0.
At one
rubber each Myles Orton stepped on to court to take on Manchester Northern's
Jonny Kinsella, a former 850 ranked ATP player. After what was a very tight
encounter Orton came through to win 6-4, 7-5.
Robbie Ridout,
currently ranked 996 in the world, was playing Dave Porter from Manchester
Northern. A former world ranked player himself Porter overcame Ridout 2-6, 3-6
to level the fixture at two rubbers all.
Everything now
rested on the doubles.
Robbie Ridout and Myles Orton paired
up to take on Dave Porter and Seb Jackson whilst Keelan Oakley teamed up with 16 year old Tom
Wright who had just been crowned 16 & Under National Doubles Champion a
couple of weeks before.
Both doubles were very tight with
Ridout and Orton winning their match 6-3, 7-6(4) and Oakley and Wright also came
through to win 6-4, 6-4.
With a 4-2 lead Bromley had won the
tie and were through to the semi-final on Saturday to play A1 Pharmaceuticals, the defending champions and number one seed.
A1 Pharmaceuticals had an incredibly
strong squad in Marcus Willis (ATP 364), Toby Martin (ATP 702), Neil Pauffley
(ATP 954), Peter Bothwell (ATP 1179) with Matt Illingworth (LTA 1.2) sitting on
the bench. These boys were seeded at one for a reason.
Keelan Oakley took on Peter Bothwell
at number 4 but lost a very tight match 4-6, 4-6.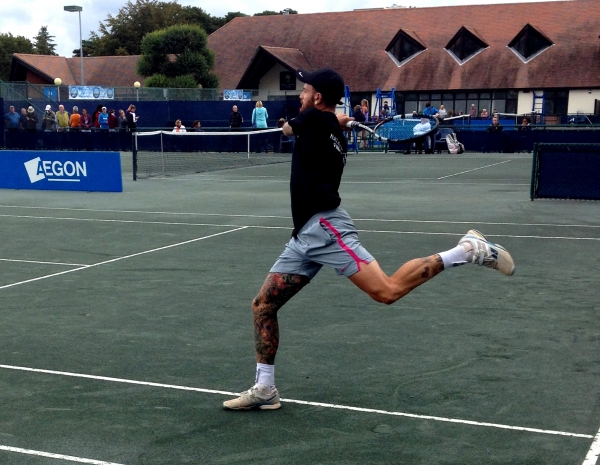 Harry Skinner (pictured above) went
5-2 up in the first set but Pauffley battled back and came through to
eventually win 7-5, 6-2.
Myles Orton went up against Toby
Martin but the higher ranked A1 player was too good on the day and won in straight sets 6-2, 6-2.
The team's fate rested with
Bromley's No.1 Robbie Ridout who needed to beat the talented Marcus Willis to
force the tie into the doubles rubbers. Having gotten off to a good start
winning a tight first set 7-6 (9), Ridout eventually lost to Willis 7-6(9),
6-2, 6-0.
Bromley had lost the tie 4-0 and A1
Pharmaceuticals progressed through to the Grand Final against David Lloyd
Raynes Park taking place on Sunday. A1 Pharmaceuticals emerged as Champions to retain their
AEGON National Title, beating DL Raynes Park 4-2 in the final.
With thousands of teams taking part
at county, regional and national level, for Bromley LTC to come through as the
third best team in the country is an amazing achievement and truly reflects the
team spirit amongst the squad. None of this would be possible each year though without
the invaluable support of our team sponsors and the club and the many members
who come down to watch and support the boys.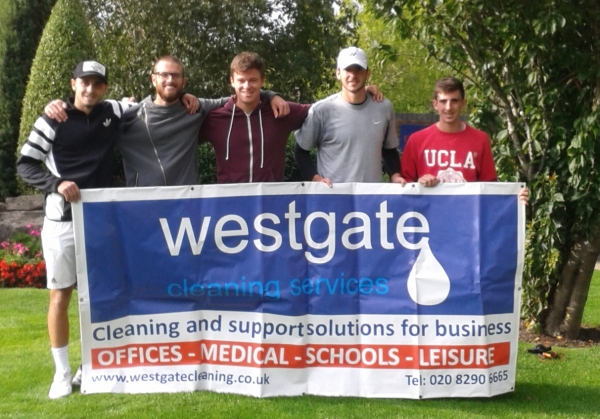 The Bromley AEGON Finals Squad (from left to right) Robbie Ridout, Harry Skinner, Keelan Oakley, Myles Orton and Tom Wright