After what has been possibly
the most competitive league stage ever to be seen in the competition, the
Bromley LTC AEGON team have once again made it through to the AEGON Team Tennis
National Finals taking place at The West Hants Club, Bournemouth between 4th
to 6th September.
For their final match of the
South East group stage the Bromley boys were up against The Connaught Club from Essex on Sunday 21st June. With the
sun shining down we were joined on the day by team title sponsors Mark and
Sarah Evans from Westgate Cleaning Services and a number of our sub sponsors
including Shekor Tarat from Tamasha Indian Restaurant who kindly supplied the
delicious lunch on the day.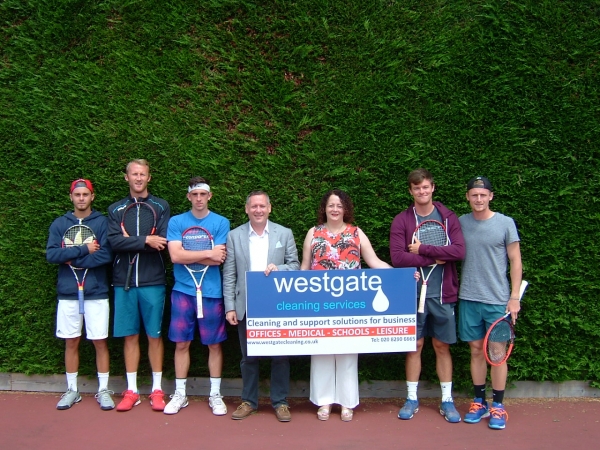 Team Title Sponsors Mark and Sarah Evans from Westgate Cleaning Services with the Bromley LTC Team
(L to R – Robbie Ridout, Barry Fulcher, Tom Wright, Mark Evans, Sarah Evans, Keelan Oakley, Sam Hutt)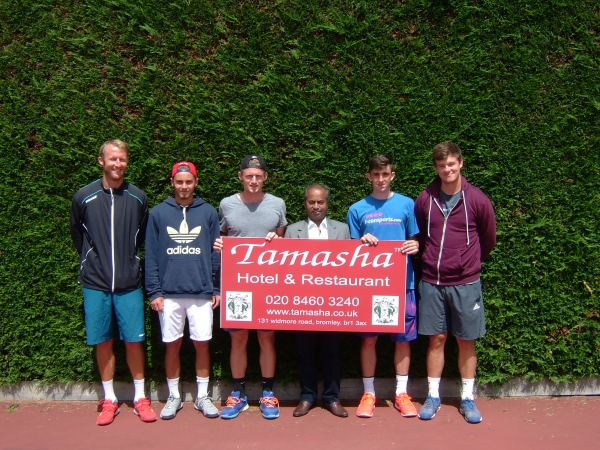 The Bromley AEGON Team with sub sponsor Shekor Tarat from Tamasha Indian Restaurant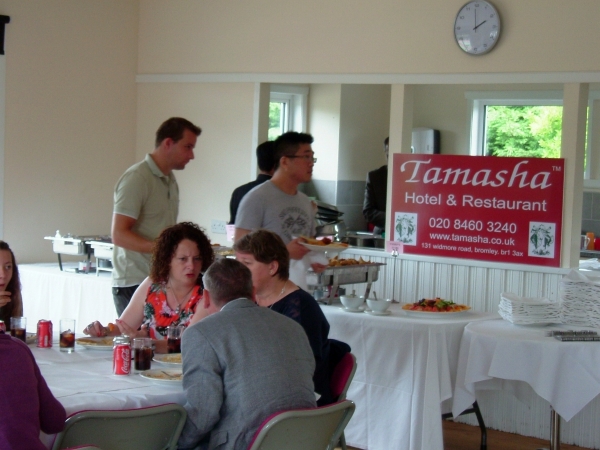 Club member Tony Smith from L.R.S (www.localracketstringer.co.uk) was also on site stringing rackets in aid of Cancer Research in memory of three friends we lost at Bromley LTSC last year. A phenomenal effort from Tony as he strung 19 rackets on the day and made £415 for the charity.
The match couldn't have gone any better with Bromley winning the tie 6-0 which secured us 3rd place in the National South East group and a play-off match to get us to Bournemouth.
Click here for the final South East group standings………….
Bromley were drawn a home play-off tie against Sutton Coldfield from the West Midlands which had to be played on Saturday 18th July, the day of our own Club Open Finals. Starting at Midday, the Bromley boys were leading 4-0 after the singles rubbers and with victory guaranteed this meant Bromley had qualified for the finals and the doubles matches weren't required.
National Finals
Details for the National Finals are shown below and all spectators are welcome.
Venue = The West Hants Club, Roslin Road South, Bournemouth, BH3 7EF
Dates = Friday 4th to Sunday 6th September
Bromley LTC are likely to be seeded 4th at the event this year and, provided everything goes ok with our Friday match, we should hopefully be contesting a semi-final on Saturday. The standard of play is always incredibly tough in Bournemouth though and anything can happen.
If anyone would like any advice on hotels etc should you wish to stay for the weekend or to be kept informed with the match schedule, please contact Martin Rands on 07884 232 400 / martinrands@hotmail.co.uk.