Having topped
the National Division South East Group in the 2013 AEGON Team Tennis Championships,
the Bromley LTC team travelled to Bournemouth to compete in the National Finals
at The West Hants Club over the weekend of 12th to 14th July.
Being joined
by the other seven best teams in the country, Bromley were seeded 4th and were drawn to play Wrexham in the first round at 9.30am on the Friday. The
format for the day was the third and fourth string singles to kick off followed
by the first and second players in the line-up. Doubles matches would be played
later in the day if required.
Playing at
3 for Bromley was Myles Orton who
was up against Wrexham's Kyle Fellows and overcame his opponent 6-4, 6-4.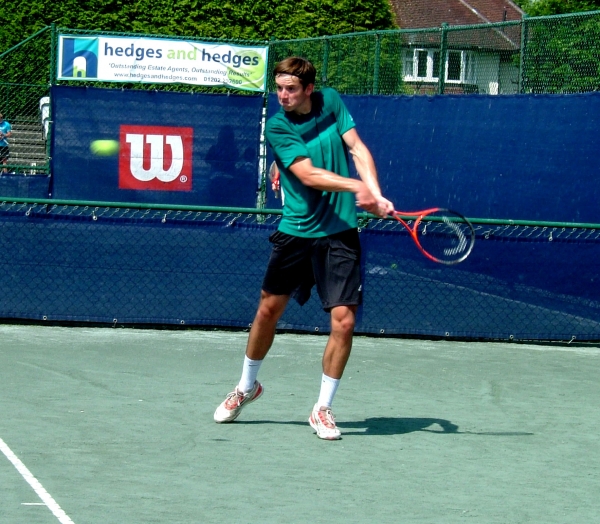 Sam Hutt at
number 4 was drawn against Nicholas Jones and despite losing the first set came
through to win 4-6, 6-4, 6-2.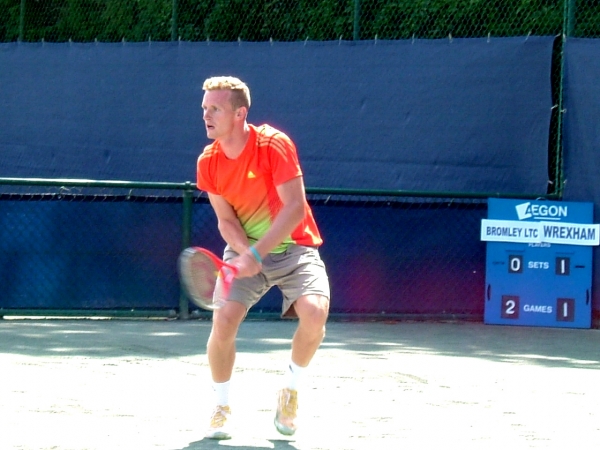 Up next was
Bromley's number 1 for the weekend Rob Searle who was competing against Wrexham's
Simon Morris and came through to win 7-6(4), 6-2.
Completing
the Bromley line-up was Harry Skinner playing at number 2. Having been
undefeated all season at singles for Bromley, Skinner was keen to maintain his
record and didn't disappoint in beating Alex Parry 6-1, 6-2.
With an
unassailable 4-0 lead there was no requirement to play the doubles rubbers and Bromley
were through to the semi-finals on Saturday.
Drawn
against long term rivals Sutton Tennis & Squash Club in the semi, Sutton had
their big guns available for the finals and had been seeded 1 for the weekend
as a result. Starting off the semi-finals singles matches on Saturday were
Harry Skinner and Sam Hutt playing at 3 and 4 in the Bromley line-up.
Having to
play in thirty degree brutal heat, Hutt was up against Sutton's Evan Hoyt but
lost in straight sets 5-7, 3-6.
Skinner was
still looking to maintain his 100% singles record for Bromley and didn't disappoint
against Sutton's James Ireland. In what was a gruelling three and a half hour match
with both players suffering severe cramp under the Bournemouth sun, the match
became a war of attrition with Skinner's stubbornness gaining a vital win for
the Bromley side as he came through 7-6(5), 4-6, 6-1. This meant that the
fixture would at least have to go to the doubles rubbers.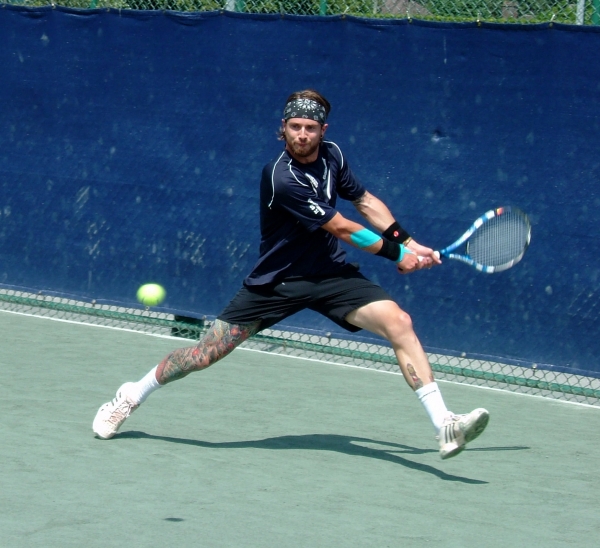 Up next for
Bromley was Bromley Captain Nick Cavaday playing at number 2. Cavaday was drawn
against Jack Carpenter who is currently ranked 669 in the world but proved too
strong with Cavaday going down 3-6, 2-6.
Spearheading
Bromley's campaign was team stalwart Rob Searle who was up against world number
519 Alex Slabinsky. In what was a close encounter, the Sutton player edged out
the match to win 6-4, 6-3.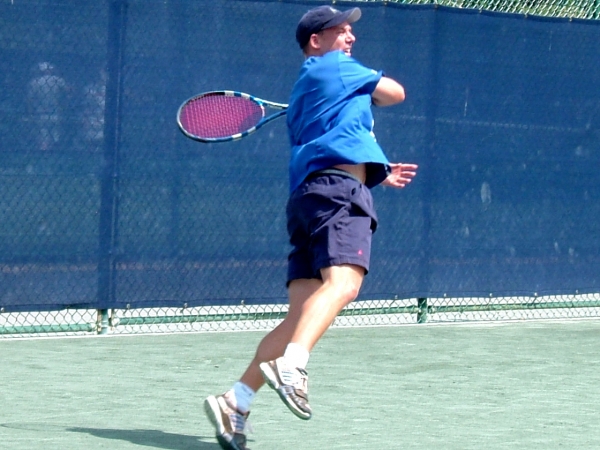 Bromley
were 3-1 down after the singles rubbers and needed to win both doubles matches
to force the tie into a tie-break shoot-out.
Cavaday and
Orton teamed up to take on Sutton's Adam Thornton-Brown and Evan Hoyt, whilst Rob
Searle and Tom Higgins took on Alex Slabinsky and Jack Carpenter. Although
Cavaday and Orton were a set up and looking likely to take their doubles,
Searle and Higgins were edged out of their match 5-7, 3-6 and Sutton had won
through to the final.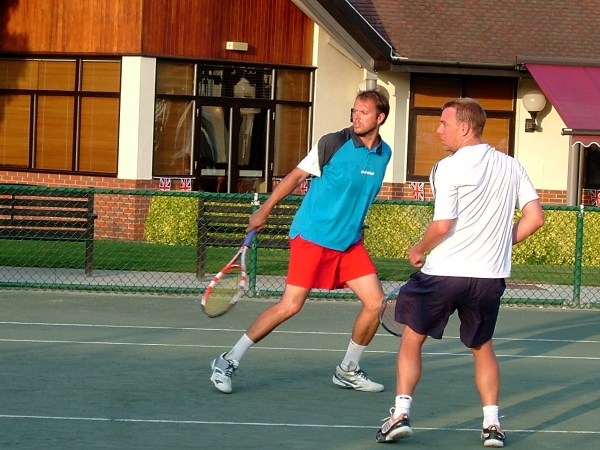 Speaking
after the competition Captain Cavaday was disappointed that the Bromley side
hadn't made the grand final on Sunday but reflected on a good season. "Whilst it
is a shame that we couldn't get another win against Sutton, they were top seeds
for a reason and eventually won the title against Mackintosh in a tight match
that went right to the wire in a tie-break shoot-out. The Bromley team spirit
was excellent this year and losing against Sutton was the first tie we had lost
all season. Having finished top in the South East Division and losing
semi-finalists to finish 3rd in the competition overall is a great
achievement and truly reflects the team's commitment to the club. We have
another trophy for the cabinet and our challenge now is to try to go all the
way again next year".
For the full results and team line-ups please visit the LTA website link below:
http://lta.tournamentsoftware.com/sport/draw.aspx?id=E0D3A11F-5FD2-42AC-85FD-8D60143E2B1A&draw=1