In what was a crunch fixture for
both sides, Bromley LTC edged out David Lloyd
Raynes Park on a thrilling Champions Tie-Break
Shoot-Out last Sunday (19th May).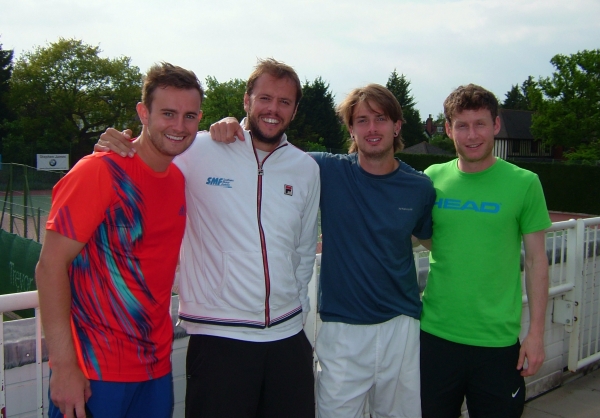 The Bromley LTC team
from left to right: Sean Thornley, Tom
Higgins,
Harry Skinner and Nick Cavaday (Team Captain)
With
everything still to play for in the AEGON Team Tennis South East National Group,
Bromley's home fixture against David
Lloyd Raynes
Park was important for
both sides.
Spearheading
Bromley's campaign at the weekend was Sean Thornley who was up against Kent
Number One Lewis Burton who is currently ranked 667 in the world. Thornley put
up a good fight but was broken in both sets to go down 4-6, 4-6 to the Raynes Park player.
Rob Searle
was at No.2 for Bromley and was up against former Aussie No.1 junior player
Lachlan Ferguson. Rob's recovery from his horrific ankle injury two years ago
looked complete as he steam rollered through his opponent to win 6-1, 6-2.
Playing
third string in the Bromley line-up was Harry Skinner who has played every
fixture this season and is yet to be defeated. Up against Raynes Park's
Matt Leahy, Skinner lost the first set on a tie-break. After a forced change of
racket for the start of the second set, the tenacity of the Bromley player
shone through as he came through to win 6-7 (6), 6-2, 6-2.
Long-term
team member Tom Higgins was playing at No.4 against former Kent No.1 Colin
Beecher but went down 4-6, 4-6 to tie the overall fixture at 2-2.
Thornley
and Skinner paired up for the first doubles rubber to take on Burton and Beecher but
lost in straight sets 3-6, 1-6.
At 3-2 down
overall it was up to Searle and Higgins to save the tie. Playing against Ferguson and Leahy the
experience of the Bromley duo proved too much for the David Lloyd pairing as
they came through to win and square the tie 7-6, 6-0.
At 3-3 in
rubbers the tie would be decided on a tie-break shoot-out (first to ten – clear
by two points). Two singles match tie-breaks would be played and if still all
square a doubles tie-break.
Sean Thornley
stepped up a gear to take revenge on Lewis Burton by winning his singles
tie-break 10-6. Victory was actually in Bromley's sights and it was now up to
Harry Skinner to beat Colin Beecher in his singles which he did 10-7.
Bromley won
the overall tie 7-6.
Team
Captain Nick Cavaday was delighted. "Fixtures against David Lloyd
Raynes Park are always extremely tough and to beat the defending National Champions is a
great achievement for the team. The guys played really well and their
commitment to the team shone through today".
With five wins
from five fixtures Bromley LTC are currently topping the South East National
Group standings. Click below to see the current league positions.
http://lta.tournamentsoftware.com/sport/draw.aspx?id=C9A2618D-7138-4C6E-8CE3-90327DC6FAD9&draw=1
Our season
will be decided on Sunday 2nd June when we play away to Sutton
Tennis & Squash Club's first team. If Bromley win that fixture we will be crowned the overall
Group winners for the season and gain automatic qualification for the National
Finals in Bournemouth in July. This will be a
difficult task though as Sutton have an extremely strong squad of players to
call upon this year.