Playing their fourth group match of
the 2013 AEGON Team Tennis season, the Bromley side were away to
Paddington Sports Club last weekend.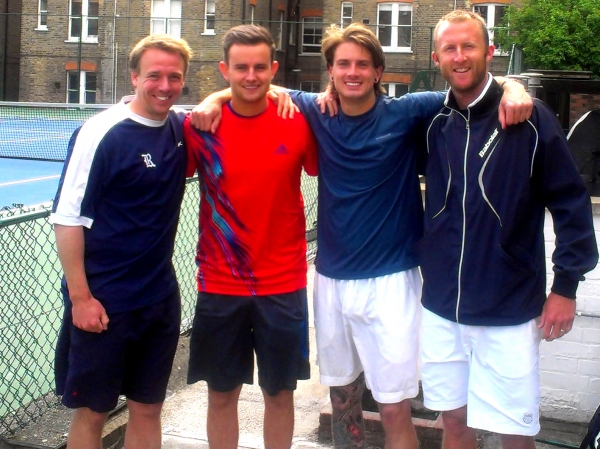 Having
topped the South East National Division in 2012, the Bromley boys were
expecting a tough battle against Paddington
SC on Sunday 12th May.
Luckily for Bromley Paddington were missing their top two squad players in Matt
Short and Andrew Fitzpatrick who is currently ranked 500 in the world.
Having recently
returned from a Doubles Futures tour in America and making his first
appearance this season for Bromley was Sean Thornley. Playing at No.1 for the
Bromley side, the former British Top 20 player was up against Paddington's Team
Captain Naim Lalji in his singles rubber and came through to win 6-2, 6-3.
Long-standing
team member Rob Searle was playing at No.2 in the Bromley line-up and was
contesting his match against former Bromley LTC team mate David Culshaw. Having
had a battle in the first set Searle eased out his match 6-3, 6-0.
New boy
Harry Skinner played at No.3 and maintained his 100% Bromley record by beating Paddington's Josh Page 6-2,
6-4.
Completing
the Bromley line-up was returning squad member Barry Fulcher who eased passed
his younger opponent in Nick Sego 6-2, 6-1.
With an unassailable
4-0 lead the Bromley side were assured of overall victory and hoped to achieve
an emphatic win by claiming both the doubles rubbers.
Skinner and
Fulcher paired up to take on Culshaw and Sego and edged out their match 6-3,
6-2. Thornley and Searle were up against Lalji and Page and took their first
set 6-3. The Paddington pair came back fighting though and the second set was
claimed by the home side on a tie-breaker. The match was to be decided by a
Champions Tie-Break which the Paddington pair claimed, winning their doubles
match 3-6, 7-6, 1-0.
Bromley won
the fixture 5-1 and acting Team Captain for the day Rob Searle was pleased with
the performance. "The boys played well today and so far this season we have
only lost 3 out of the 24 match rubbers we've contested. This is a great
achievement but our next two matches will be the real testers as we are up
against our closest rivals in the group".
Bromley's
next match is a home fixture against reigning National Champions
David Lloyd
Raynes Park on Sunday 19th May.
(Team photo left to right = Rob Searle, Sean Thornley, Harry Skinner & Barry Fulcher