Returning home
for their third match of the 2013 AEGON Team Tennis season, the Bromley
LTC squad clinically dispatched Sutton Tennis & Squash Club's second team in the South
East National Division 6-0.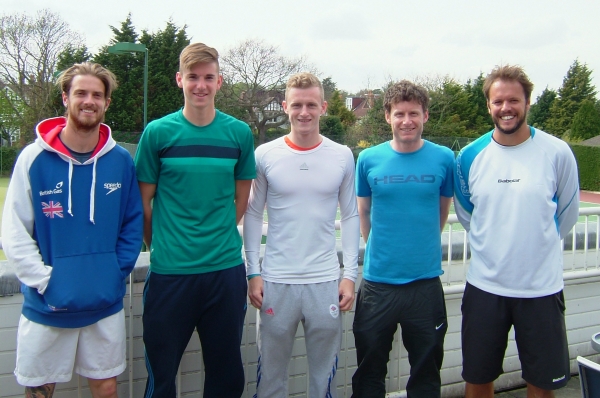 (Bromley Squad from left to right = Harry Skinner, Myles Orton, Sam Hutt, Nick Cavaday (team captain) & Tom Higgins)
Having been
promoted to the National Division at the end of the 2012 season, Sutton Tennis
& Squash Club now have two teams in the South East National Group. With Sutton being
able to pick from 18 strong eligible players to represent their second team, the
Bromley side were expecting a tough fixture.
Playing at
No.1 for Bromley this week was Harry Skinner who was up against John Richards
from Sutton. On paper Skinner was rated lower than Richards but the Bromley
player outplayed his opponent to ease out a victory 6-1, 6-1.
Making a
return to the Bromley line-up after a year of absence through new family
commitments was long-term team member Tom Higgins. Having lost none of
his grit and determination Higgins was up against Sutton's Graeme Darlington and
won his singles match 7-6 (7), 6-1.
Nineteen
year old newcomer to the squad this season and playing at No.3 was Myles Orton,
currently ranked 32 in the country. Orton wasted no time in outgunning his
opponent of Nathan Carter 6-1, 6-1.
Currently
ranked 47 in the country and completing Bromley's line-up at No.4 was nineteen
year old Sam Hutt. He was playing Sutton's Craig Veal and came through to win
easily 6-0, 6-1.
With
overall victory secured Bromley went into the doubles rubbers 4-0 up and were
looking to achieve a clean sweep by winning both dubs.
Skinner and
Higgins paired up to take on Richards and Veal and overcame their opponents
6-4, 6-1, whilst Orton and Hutt came through against their opponents of Darlington and Carter to win 6-1, 6-4, securing a 6-0 overall victory for the team.
Speaking
after the match Team Captain Nick Cavaday was delighted with the win. "The guys
got the job done today and such an emphatic win will bolster our place in the
league standings as match rubbers won could prove vital in the event of a points
tie at the end of the season. We have three very tough group matches to play
over the coming weeks and we hope our big guns will be available to join us for
those."
Bromley's
next match is an away fixture to Paddington Sports Club on 12th May.